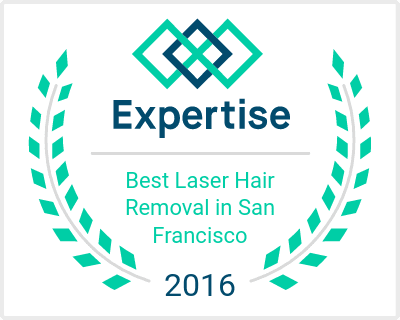 Desiring laser hair removal in Marin? Now men and women alike are making unwanted facial and body hair a thing of the past – thanks to laser hair removal. No more painful waxing, electrolysis or razors! The latest laser innovations deliver 21st century technology for treatment of this distressing problem. Cleared for hair reduction, the various hair removal lasers at The Laser Center can treat men and women of all skin types safely and effectively, year-round. Open six days a week, the Laser Center of Marin offers complimentary consultations to confirm you are a good candidate and to develop a treatment plan customized to your skin type.
Laser Hair Removal*
*Individual results may vary
---
Here is a recent review from one of our patients, Caitlin, from Marin who came in for our laser hair removal and laser skin care services:
*"This place is great for laser hair removal. The office is very professional–clean and well-kept. I think in the span the eight sessions that I had done, four of them were here and I had two different technicians, both of whom were great: friendly, efficient, and skilled at getting good results while keeping it as quick as possible (which minimizes the pain). They also made me feel as unembarrassed as possible, considering the area I had done. I had great results here (two other places I went were nowhere near as good). They also seem to have a better machine than the smaller, less professional places, because my results were better."
*Individual results may vary
Harnessing the Power of Light to Treat Unwanted Hair
A Better Treatment Option: Laser Hair Removal*
Innovative, light-based devices have revolutionized the treatment of unwanted hair; offering gentle, effective and convenient solutions for both men and women. The LightSheer and Vectus Diode Laser Systems use targeted flashes of light to block the regrowth potential of the hair follicle. These treatments do not damage surrounding tissue and the laser targets numerous hair follicles simultaneously, allowing for the treatment of large areas quickly and effectively.
Featuring the largest spot size and most uniform beam profile available today, the Vectus laser allows us to quickly treat unwanted hair, even in the largest areas such as a back, in less than 20 minutes. Sapphire treatment tips with Advanced Contact Cooling help protect the epidermis and help keep you comfortable throughout the treatment. The Vectus Laser also features the integrated Skintel™ Melanin Reader™, the only FDA-cleared melanin reader, helping us to more safely offer optimized hair removal treatments tailored to your skin type, lifestyle, and ethnicity.
Whether you are in search of a youthful look, want to get rid of unwanted hair, or need treatments for repairing sun damage, the Laser Center of Marin is proud to offer innovative, professional, and result-oriented laser skin care treatments. Call us today at 415-945-9314 to schedule a complimentary consultation. Located at 770 Tamalpais Drive, Ste. 301 in Corte Madera, CA. We look forward to seeing you!
*Individual results may vary.